Home Page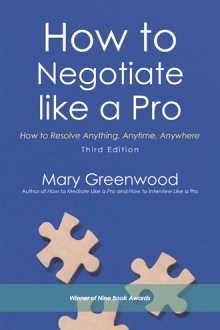 Announcements
1) Mary Greenwood will be exhibiting her books at the Tampa Bay Book Fair on Saturday February 2, 2019, from 2:00 to 6:00 at Cage Brewing, 2001 1st Ave. South, Saint Petersburg, Fl.
The event is for local authors, publishers and booksellers. The Tampa Bay Book Fair is sponsored by WordierThanThou.Com.
2) Mary Greenwood showcased her books at the Local Authors Showcase at the Palm Harbor, FL Public Library, 2330 Nebraska Avenue, on Saturday, January 19, from 1:00 to 3:00.
The goal of the Local Showcase was to create awareness of local writers and talent. The Showcase encouraged readers to spend time with the authors to discuss their books. 
3) How to Negotiate Like a Pro, How to Resolve Anything, Anytime Anywhere was a finalist in the "how to" category in the Next Generation Indie Book Awards.
The awards ceremony was held June 22 at the Hotel Monteleone in New Orleans, which is one of three Literary Landmarks in the US, including  the Plaza and the Olgonquin in New York City. Hemingway, Tennessee Williams and Faulkner all stayed there. This is the tenth book award for How to Negotiate Like a Pro and the 24th book award for all Greenwood's books.
4) Mary Greenwood won First Place in Memoir for A Man's Spot, an essay about her first day at law school in 1968, in a writing contest sponsored by the South Florida Writers Association.
 Greenwood's Legal Memoir will be published in 2019.
5) The new third edition of How to Negotiate Like a Pro is updated and revised with a new chapter on How to Negotiate with Difficult People, which includes pathological liars, bullies and narcissists.
About the Author
Mary Greenwood is an Attorney, Mediator, Arbitrator, Negotiator and Author of three award-winning books: How to Negotiate Like a Pro; How to Negotiate Anything, Anytime, Anywhere; Winner of ten book awards, How to Interview Like a Pro, 43 Rules For Getting Your Next Job,  
Winner of 13 book awards; How to Mediate Like a Pro, 42 Rules for Mediating Disputes, Winner of 12 book awards.
Greenwood  has a BA and MA in English, a Law Degree and an LL.M. in Labor Law. Greenwood lives in St. Augustne Beach, Florida with her Boston terrier Annabelle.
How to Interview Like A Pro,  Reader's Choice,  and Winner of twelve book awards. 

Getting a job is like parking. You have to be in the right place at the right time. In How to Interview Like a Pro, author Mary Greenwood provides strategies and practical tips about how to prepare for job hunting, how to interview, and how to seal the deal.

Greenwood, a longtime human resources director, provides insight into how get ready for an interview, how to answer those difficult questions, and how to negotiate salary. Her guide can also help you understand the laws of interviewing and the questions an employer cannot legally ask. Learn how to

Recognize that looking for a job is a full-time job;

Create a great cover letter for your resume;

Prepare and deliver a quality elevator speech that is essential for success;

Be nosy about the interview process—it can work in your favor;

Wear the right outfit, use the right handshake, and project the right demeanor; and

Ask good questions at the interview.

How to Mediate Like a Pro,winner of twelve book awards. 

How to Mediate Like a Pro is based on Greenwood's experience as a Mediator in over 7000 cases.

Greenwood noticed that there were certain Rules or characteristics of The cases that settled that were not present in the cases that did not settle. Among those Rules you will find the following:

Be A Devil's Advocate
You Can Mediate With A Lunatic
Everyone Makes Mistakes
Let The Parties Tell Their Story
Know When To Fold

Greenwood lists each Rule and Script and offers a concise explanation on how and when to use it in Mediation.How to Mediate Like a Pro presents strategies and practical tips for the Mediation process. It will give you insight on how to deal with difficult parties, how to break an impasse and how to close the deal. After you read this book, you will be able to Mediate Like A Pro.

Third Edition How to Negotiate Like a Pro: How to Resolve Anything, Anywhere, Anytime, Winner of nine book awards.  

If you can't seem to get what you want, it's time to learn How to NegotiateLike a Pro. In this third revised edition of How to Negotiate Like a Pro, Greenwood, an attorney, negotiator, and human resources director with over 30 years of experience, adds new and revised chapters and provides the tools and strategies to negotiate anything, anytime, anywhere, including your spouse, your boss, a hotel or an online seller on eBay. Here's a sample of tips you will get:

Gain strategies and practical tips for the negotiation process;
Deal with someone who is a bully, narcissist or pathological liar.
Understand what the other side is thinking;
Learn the ten questions to ask to get the best deal;
Find out what makes a good negotiator.    

With Greenwood's forty-one rules, you will be soon be negotiating like a professional.